"One, rad feminists of the 1960s and 1970s did not all look alike. That cliched..."
– Ann Powers, 2005, on this Maureen Dowd tome.
1 tag
Former Facebook staffer Kate Losse's piece on "Lean In": For someone with fewer family demands than Sandberg, freedom is depicted not as a pleasure but a problem to be resolved by getting a family. The single woman goes out to a bar goes not to have fun or be with friends (the main reason most women I know attend a bar), but to find a husband with whom to procreate. "My coworkers...
"Besides, most people made endless assumptions about married couples and treated..."
– My mother, summing up my feelings about matrimony 5 years before I was born. (From "The Family: Love It Or Leave It," included in the forthcoming collection!)
"It's less a matter of "the right to control our bodies" than the freedom to..."
– Ellen Willis on women's sexual freedom
"Under present conditions, people are preoccupied with consumer goods not because..."
– Ellen Willis
"For a year I cut myself off from men altogether. Perhaps I had to plunge so..."
– Ellen Willis, "Escape from New York" (via rightnow-forever) #singleladies
Birthday cake.
It's my mom Ellen Willis' birthday today. She would have been 71. Every year, I figure the best way of honoring her is to read my favorite pieces she's written—things that push me to consider every moment of my life, and to fit together cultural forces like puzzle pieces. Here's what I'm reading this year: Classical and Baroque Sex in Everyday Life, which Susie...
"Dylan is now free to work on his own terms. It would be foolish to predict what..."
– Ellen Willis, "Before the Flood" (from Cheetah, 1967)
Watch
She's Beautiful When She's Angry, the in-process documentary about the birth of the women's movement that features Ellen Willis (and me!), has just launched a Kickstarter. Give them $$$$ or a tweet or a reblog!
"A fair and generous woman is (at best) respected, but seldom loved."
– the realest of talk from Redstockings co-conspirator Shulamith Firestone. (via theothernwa)
4 tags
Watch
"When feminism first erupted, it was for me an extremely erotic moment, 'cause I think, for the first time, I saw the possibility of what I was really being beautiful." —Ellen Willis Filmmakers Mary Dore and Nancy Kennedy are making a documentary about early radical feminists, called She's Beautiful When She's Angry—and both my mom and I are in it.
"The constant celebration of homemaking in the media cannot conceal the fact that..."
– Ellen Willis in Mademoiselle, September 1969. (EW said in a 1989 Terry Gross interview that, besides sex, the single thing responsible for radicalizing her was housework.)
"I especially enjoyed the way he moved… projecting a sense of maleness that..."
– Ellen Willis on Bruce Springsteen, 1974. James Deen vibes.
"I'll let you be in my dream: Nora Ephron and Oliver Stone collaborate on..."
– Ellen Willis, 1994. (Can you tell I'm doing some archival research for the new Essential Ellen Willis anthology?)
"Here was a respected, professional thinker calling bullshit on herself, over and..."
– Sasha Frere-Jones, in a Ellen Willis discussion with Sara Marcus and Emily Gould on Bookforum.
Oh Hell Yes.
Out of the Vinyl Deeps was nominated for a National Book Critics Circle award! This awesome news comes at the tail end of some pretty fab year-end accolades. Go mama!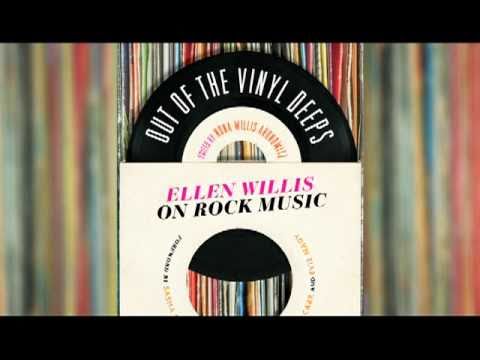 Who was Ellen Willis?
Ellen Willis, born December 14, 1941, was a radical leftist writer and thinker whose true loves were pop culture, feminism, pleasure, freedom, and countercultural politics. She was the first rock critic for the New Yorker, an editor and columnist at The Village Voice, and wrote for numerous publications like Rolling Stone, The New York Times, The Nation, and Dissent. She was a cofounder of the...
"My deepest impulses are optimistic, an attitude that seems to me as spiritually..."